Security At Texas School Includes Tracking Chips, Guards With AR-15s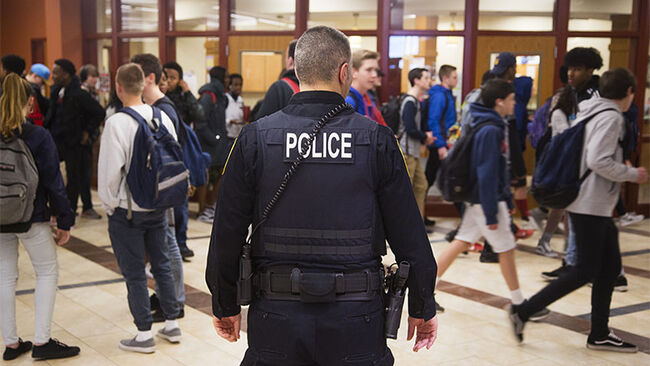 A school district in Texas is taking security seriously and recently hired a former secret service agent to create a state of the art security system to keep students safe. Officials with the Texas City Independent School District decided to act following a school shooting last year at a nearby high school in Santa Fe in which a 17-year-old gunman killed ten people.
The school district hired Mike Matranga, who was a secret service agent for 12 years, to create a comprehensive plan that would ensure the district's schools are safe.
"We're not playing around. This isn't some kind of little game to us. We put a lot of time, money, and effort into this," Rodney Cavness, superintendent of schools for the Texas City Independent School District, told Fox News.
As part of the new plan, students and staff members have been given radio frequency identification cards which allow them to be tracked throughout the building. The schools have also installed facial recognition cameras to identify visitors. They have upgraded the locks and made the windows impact resistant, hoping to slow down a potential shooter and make it harder for them to injure people inside.
"What we're trying to do is buy time, and by buying time and by having a deputy on campus or multiple deputies on campus, that time allows our deputies to respond and do their job," said Matranga.
The schools will also be protected by resource officers who will have access to AR-15s. The rifles will be kept in a locked safe and only used in the event of an active shooter.
"These are the weapons we purchased for our deputies. I'm a firm believer that we fight firepower with superior firepower," Matranga explained.
Matranga also created a smartphone app that allows users to report an active shooter with the push of a button. It can also be used to alert authorities if there is a fire or medical emergency and connect the users with an emergency dispatcher. He said that he understands that teachers are the first line of defense, and it is essential to give them the tools needed to quickly and quietly alert law enforcement to an emergency situation.
"It's not about the camera system. It's not about the electronic locks. Though we're doing that, it's about investing in people," Matranga said, "and that's the key."
Photo: Getty Images